The Annual Offshore Engineering Technology & Equipment Event
INTERNATIONAL PAVILION

18
EXHIBITOR

2,000
PROFESSIONAL VISITOR

150,000
EXHBITION AREA

120,000
The 14th Beijing International Offshore Engineering Technology & Equipment Exhibition (CM 2024) will be held on March 25-27,2024 at NCIEC, Beijing. Concurrently held with China International Petroleum & Petrochemical Technology and Equipment Exhibition(cippe).CM2024 is one of the most influential and comprehensive exhibitions, covering offshore engineering, offshore oil and gas, onshore oil and gas. It welcomed 2,000 exhibitors, 18 National Pavilions and 150,000 professional visitors from 65 countries...
Read More>
cippe2023 Innovation Award
cippe Gold Innovation Award initiated by cippe Organizing Committee in 2012. More than 10 authoritative experts will be invited to form the...ReadMore>
News
Learn about the latest developments in the industry
Jun01
|
Exhibition News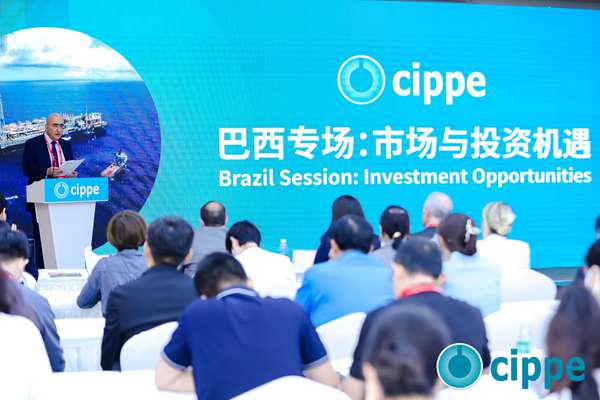 To help companies to open up overseas market, Brazil Session: Investment Opportunities was held at the venue on June 1. We are honored to invite Mr. Marcos Beze.........Read More >
cippe Testimonials
Stephanie Heydolph
Chief Representative of VDMA China
It's our fourth time to organize German companies to participate in cippe. At this special and professional exhibition, our member companies have achieved good results, which has increased many business opportunities. VDMA member companies and other German companies will continue to participate in cippe2019. Thanks to the organizing committee for providing such an international communication and publicity platform.
Don Whittaker
Manager of API Quality Certificate
The Chinese market has developed rapidly in the past two years, and API companies has grown rapidly. It is in view of China's huge market potential that I often come to China for marketing. cippe showed China's rapid development in the field of petroleum and petrochemical equipment. Through exhibitions such as cippe, China showed the world its leading position in this industry. API is willing to provide quality services for more cippe exhibitors.
Mr. William Zarit
Former Minister-Counselor of Commerce from US Embassy in China
It is a pleasure to see more and more American companies attending the cippe exhibition. It provides American companies with the best opportunity to showcase their technology, products and experience to Chinese customers and further promote the development of trade relations between Sino-US oil companies.
Agres Hagyak
Energy Project Manager of French Trade commission
cippe has been the bridge for China-French cooperation that has been continuously enhanced. It's the eighth time that we have brought French delegation to cippe. This year, there are 20 companies, in which 50% member has established partnerships with Chinese counterparts. Not only the exhibition meet the hope of French companies to enter the Chinese market and look for cooperation, but also the business forum match the two countries' companies. Therefore, we participate in this exhibition every year to find new opportunities and partnerships.
Claire Miller
Director of Member Service of EIC
For UK companies, showcasing our advanced equipment here means finding more business opportunities in this market. As the supplier of oil and gas equipment, British companies have long enjoyed an excellent reputation. At present, we have many engineering projects in China. cippe is a good opportunity for us and the enterprises will try to find more business cooperation.
John Cotton
Assistant Deputy Minister Department of International Relations and Political Relations, Alberta, Canada
cippe Beijing is an exhibition with great influence around the world. Through this platform, our Canadian exhibitors have further learned about China. There can be better cooperation opportunities between Chinese and Canadian companies. The organizer's work is also orderly and recognized by the exhibitors. We will organize more Canadian businesses to participate in cippe.
Energy Department
CATERPILLAR China
cippe is one of the largest oil exhibitions in the world and we will not miss this opportunity to showcase our new exhibits. China's market potential is huge and we can find the latest growth points here. The scale of cippe Beijing is constantly expanding and the effect is getting better and better, which is also what the exhibitors are looking forward to.
Alexander Mikuzka Yevna
Marketing Department of Gazprom
Gazprom is the world's largest natural gas company, which includes exploration, mining, transportation and processing, marketing of natural gas, gas condensate and crude oil. Gazprom participated in cippe for the seventh time and brought its latest oil and gas exploration technology, gathering technology and various cooperation projects.
Previous
Next
Copyright ? 2023 chinamaritime.COM.CN All Rights Reserved by ZHENWEI EXPO(SC: 834316)
京ICP備05086866號-12
夜精品A片一区二区无码,欧美XXXX性BBBBB喷水,激情人妻另类人妻伦